About Gunjan Pandya - An SEO Consultant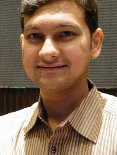 Gunjan Pandya, a SEO consultant from India, had started working in the field of Internet Marketing as a SEO from the year 2005.
I have working experience of 3 years as Internet Marketer in different companies and from past 4 years, have started providing my services of Internet Marketing, SEO and Social Media Marketing to my clients.
Having an experience of more than 7 years in the field of SEO Consulting and Internet Marketing related services, I can assure you that if you wish to get internet marketing service with full satisfaction, then you have come to right place. Currently, I have team who works under my observation and my guidelines for our SEO projects.
I strictly follow the process of ethical search engine guidelines and will provide you SEO services with same efficiency and dedicated hard work. I work on all my projects with passion and dedication. With my skills and experience I try to bring best results to all my clients. I always make a point that if client invests some money on our SEO consulting services then they should get benefit out of it.
Benefits of our SEO consulting services:
Satisfaction:
My commitment to all clients is bring to them satisfactory results with my dedication towards work.
On Time:
As per my commitment to all clients I try my level best to give them targeted result within the committed time.
Quality Work:
With the process of strictly following ethical search engine guidelines, we assure you in getting quality work.
Cost Effective:
Charges of my SEO consulting services are cost effective in comparison to SEO Industries. We bring to you quality work result at affordable prices.
Our motto is "Our works speaks for us, rather then we. And our satisfied clients will be our promoters and speakers." So if you are looking for professional SEO consultant or internet marketer who can help you in developing a market through internet, then feel free to contact us with your project requirements.